Wendy Wax Shares How Her Characters Overcome Stereotypes In Ocean Beach
Fri, 07/20/2012 - 10:01am — admin
In her new book, Ocean Beach, author Wendy Wax introduces three women in search — and need — of change. Main characters Madeline, Avery and Nicole are all at crossroads in their lives, and refuse to be boxed in by their pasts. The author can certainly relate. As a young woman, she started out in the male-dominated field of radio, television and film. Refusing to give into stereotypes of what a woman's role should be, she fought to rise to the top. She is here with us today to talk about her own struggles with stereotypes and how the women of Ocean Beach confront those very same issues.
Almost everyone has a stereotype they can be squeezed into. But while we may be proud of our nationality, or sexuality or shape and size, I think it's safe to say that no one wants to be seen or known as only that.
As a broadcast major who pretended not to be able to type in her first television job, I can relate to trying to avoid stereotypes. This was a few years back (but who's counting) and the last thing I wanted was to be sidelined into the secretarial pool where women who could type too often ended up. I had a journalism degree and tons to offer, and I was determined not to be stereotyped.
Though times have changed, people in many ways haven't. Just as we often judge a book by its cover (as an author I know just how important a cover can be), we also have a tendency to take one look at someone and think we know exactly who they are. The women of Ocean Beach are all at a crossroads in their lives and are each determined in their own way to be more than they may seem.
Avery has the most obvious reason to try to avoid unfair judgments and is very open about her determination to overcome her stereotype. Despite her architectural degree and having grown up on her father's construction sites, it was her china doll features, small stature and oversized bust that the cameras focused on in her first show on HGTV. Humiliated at being turned into the 'dumb blonde' of the show, she swings completely in the other direction. Afraid to allow yet another network to focus on her bust instead of her brain, Avery wears oversize clothes to camouflage her chest and resists any sign of collaborating with or leaning on a man in any way. Her challenge in Ocean Beach is to find a balance; a place where she can be recognized for her talent and still be able to be proud of her looks.
Avery's estranged mother, Deirdre, is the stereotypical "bad mother." When Avery was young, Deirdre chose her career over motherhood and even she has bought into the idea that she doesn't know how to be a mom. Coming back into her daughter's adult life she realizes she can't miraculously become a "good mother" just by wanting it. Instead, she has to find a way to show Avery that she loves her and that there is more than one kind of mother-daughter relationship that can work.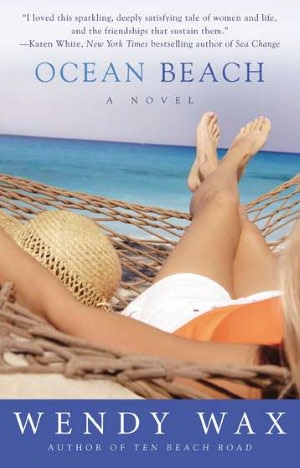 And speaking of good mothers, Maddie tends to mother not only her own children (and grandchild) but also her husband and her friends. And as much as she feels comfortable in that role and even in that stereotype, when her financial life falls apart and her daughter's life doesn't turn out exactly as planned, Maddie looks for a way to change her own path as well. For her, being a stereotypical wife and mother is no longer enough. She's ready to find her own inner strength, stand on her own two feet, and to begin a career that will not only fulfill her but give her some much needed independence. With all of this playing out in front of a reality TV audience, Maddie's challenge is to be seen as a strong leader and not just a reliable mom.
Maddie's daughter Kyra is of a different generation. She's initially not as afraid of being stereotyped as her mom and her mom's friends are. But after an affair with a famous movie star that leaves her single and pregnant, Kyra becomes very afraid that she will no longer be seen as a serious filmmaker, but as a "no talent hack" trying to sleep her way to success. For Kyra there are many challenges; raising a baby on her own, keeping the paparazzi and her famous baby-daddy at bay, and most of all proving herself as a filmmaker and producer.
Last but not least, we have Nicole who has spent her life overcoming obstacles and stereotypes. Growing up poor, she was determined to rise above her circumstances. As a successful dating guru and A-list matchmaker, socializing with the rich and famous, she thought she'd made it.
When we first meet Nikki in Ten Beach Road, everything is falling apart for her. Not only has she lost all her money in a Ponzi scheme like the other women, but because her felonious younger brother is responsible for the mess, she watches her reputation go down the drain along with her last few dollars. Though she may not have wanted to be stereotyped in the past, she would much rather be thought of as a "well-to-do matchmaker" than a "scheming criminal." In Ocean Beach Nicole struggles to maintain the façade of wealth and success and finds herself making some very dangerous mistakes in order to hold onto her hard-won image.
It's funny how themes and issues you weren't anticipating present themselves as you write a novel. Though I didn't set out to write a book about stereotypes, my characters do deal with the issue. Like most women they want to be seen as "more than." We all want to be truly known and understood. I believe it's often through our friendships with other women that we learn to embrace the stereotypical parts of ourselves but also to rise above them to become the women we were meant to be.
- Wendy Wax
You can pick up a copy of Ocean Beach in stores now! For more tales of friendship, family and laughter visit our Everything Mainstream Page.