We're Talking Cynsters With Stephanie Laurens - With Giveaway
Tue, 03/19/2013 - 10:11am — admin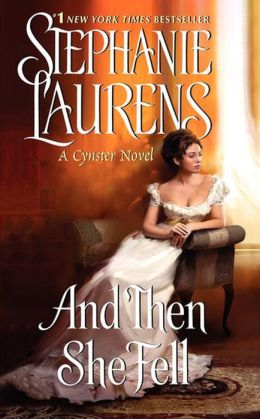 After dozens of Cynster family stories, fans still clamor for more of Stephanie Laurens' funny, sexy series. This month the author is releasing And Then She Fell featuring "spinster and loving it" Henrietta Cynster. Always ready to learn more about her delightful characters, we asked Laurens about Henrietta and her unexpected romance with James Glossup. Read on to learn more about this terrific historical romance and enter to win a copy of a Cynster family heirloom at the end of the post. 
***
Toward the end of The Capture of the Earl of Glencrae we saw a newly engaged Angelica Cynster hand over to her cousin Henrietta the necklace The Lady, a Scottish deity, had gifted to the Cynster girls to assist them in finding their true heroes — and the necklace resurfaces in the first scene of Henrietta's book. What role does the necklace play in Henrietta's story?
The necklace provides the critical imperative that starts Henrietta's story off — think of it as the spark that starts the fire. In that first scene, it's Mary who, for her own reasons, insists that Henrietta must wear the necklace. Mary believes in the necklace, but Henrietta does not. In fact, although, like all Cynster females, Henrietta firmly believes that love is the best basis for a marriage, and the only acceptable basis for her, she nevertheless does not believe that love will come to her. Will find her.  Well, you can see her point – she's now twenty nine, and love hasn't found her yet. Henrietta has no faith in the necklace – which translates to no faith in love finding her – but to keep the peace with Mary, Henrietta agrees to wear the necklace that evening…and everything changes. In these two books, Henrietta's, then Mary's, we see the necklace come into its own as a real force, as a more obvious facilitator of love.
Henrietta has been nicknamed "The Matchbreaker". How did that come about?
Ah — Henrietta's nickname has come about through her chosen way to fill in her time. Her social status, the circles into which she's been born, the connections, the ready access to the grandes dames, and indeed to all the female power brokers within the ton, combine all that with her natural tendencies to the pragmatic and practical, and from her earliest years of being out in society, she has assisted other young ladies of the haut ton — her peers — to answer the fateful question: does the gentleman who has or is about to offer for my hand love me? Or does he have some other reason for wishing to marry me? Henrietta knows who to ask, and how, and consistently gets the right answers. Consequently, certain disgruntled gentlemen of the ton, having failed to secure the brides they'd thought to inveigle into matrimony, have dubbed Henrietta The Matchbreaker. Where other ladies, the chaperons and the mamas, foster matches, Henrietta disrupts them – or more specifically, disrupts those not based on love.
James Glossup is a character who readers have met before. Did you always intend him to feature in his own book one day?
James Glossup previously appeared in The Perfect Lover. He was and still is Simon Cynster's oldest and closest friend — and Simon is Henrietta's brother, only a few years older than her. When I finished The Perfect Lover, I suspected I would have to, at some point, write James's story, but I didn't know at that time that it would be Henrietta his eye would light upon. And he didn't know that, either. In many respects this book, Henrietta and James's story, is an outcome of the action of The Perfect Lover in which Simon and Portia finally realized they were meant for each other. Through the subsequent events surrounding Simon's engagement and wedding, James and Henrietta naturally spent more time together; they had met before and were aware of the other's existence, but had not before had occasion to spend any real time in each other's company. So the events of Simon's engagement and wedding provide the essential groundwork that allows James to react very directly to Henrietta's disruption of his matrimonial plans.
What is it that makes James the perfect match for Henrietta?
This was something that came out in the telling — as I wrote the book — that these two people truly were made for each other. Henrietta, practical, pragmatic, and, courtesy of her years as The Matchbreaker, very aware of all the negative aspects of gentlemen of the ton with respect to marriage, was never going to fall for the usual alpha hero — she would instinctively distrust such a man. But although James is very definitely a "wolf of the ton," definitely an alpha male as might be expected of Simon's closest friend, he has a quiet side to him, a deeper side that values the same ideals that Henrietta herself most fundamentally values, and it's that side of him that connects most strongly with her. They are not so much two sides of the same coin, but rather a male and a female who are strongly complementary — they fit together well.
About midway through the tale, you re-introduce Barnaby Adair, who'd previously experienced a bit of drama at Glossup Hall, James' ancestral estate. We must give credit to you for your expansive knowledge of your character's storied histories ... but isn't it challenging to remember all the debacles you've placed them amidst over the course of fifty some-odd books?
Not really. I don't really need to remember every little detail — I can always check back and look at the book if I need to — but generally speaking, just like my avid readers, I can remember enough of each book's plot to at least know who was there, and the crux of the story. That's really all I need — well, that, and a good timeline!
You've now authored 51 books. Did you experience any form of performance anxiety after that landmark fiftieth, or was it business as usual?
Laughing again. You do not wait for your 50th book to get performance anxiety. That would be after the 2nd or so. In all honesty, I'm rarely sure what number book I'm writing, or working on, at any given time — they're just stories I have to tell, and my job is to tell them as best I can, and then move on to the next — that's the storyteller's life!
Mary is the final unwed Cynster sister of the generation, and we will see her story, later this year, with The Taming of Ryder Cavanaugh. But enterprising readers may note in the Cynster family tree that there are a few small branches left unjoined to another ... do you anticipate revisiting the family again in the future?
Oh, yes — definitely. I don't think readers would let me let the Cynsters fade away, and although I wasn't, at first, all that keen to move on into the Victorian age, some of the children have already proved to be such strong characters that I've found myself drawn into their stories, so they are already in the schedule. In fact, the Epilogue of Mary's story will set things up — but in what way is a topic for the next interview!
Interested in learning more about And Then She Fell? Click over to the Happy Ever After blog where Stephanie Laurens answers more burning questions about her book which releases next week. And celebrate the release with a digital booksigning. On March 27 at 8 pm EST, the author will host a global streaming event at Avon Romance Live. 
GIVEAWAY ALERT: One lucky reader will win The Lady's necklace featured in Stephanie Laurens' Cynster series. To enter, tell us if you have a special charm that brings you luck ... or love! Leave your comment below or email us here with the subject line "Stephanie Laurens Giveaway". The winner will be announced Tuesday, March 26. US mailing addresses only please.