What To Look For When Choosing An E-Publisher
Tue, 08/13/2013 - 10:42am — admin
While e-books have come a long way, oftentimes going digital can still feel like the Wild West of publishing. With so many digital publishers accepting unsolicited manuscripts, how can an author know what to look for and what to avoid? We asked author KT Grant, who has a great deal of experience with various e-publishers, to share her tips for new and established authors when it comes to choosing the perfect digital press.
After three years and 25 books with various e-publishers, there are many things I now know that I wished I'd been aware of when I first signed a publishing contract. As a new author searching for the right e-publisher, there are some important things you should be aware of before you sign on the dotted line. You want to pick an e-publisher who will treat you, and your book, with professionalism and respect. Hopefully some of these tips will help new authors begin a long and successful writing career.
Research, Research, Research
A writer will put a lot of time and energy into researching their book. The same rules should apply to selecting an e-publisher. When it comes to research, do an Internet search on the e-publisher you wish submit to, and see what comes up about them. A good site is Absolute Write and their Beware, Recommendations & Background Check Forum. Years of information and discussions have been shared there about various e-publishers. Visit some author blogs and see if they have posts about their publishers. If an author has had a bad experience with a publisher, they might post about it to warn other writers away from making the same mistakes they did. Go one step further, if you feel comfortable, and contact a few authors and ask them about their experience with their publisher. Most authors will be willing to offer advice and feedback.
Be your own detective
Investigate the publisher's website and the type of books they offer. Is their website easy to navigate, and can you find the authors listed, as well as the books and their purchase links? How creative and professional are their covers? Based on the blurbs and excerpts shown, are they easy to read and do they appear to have been edited? Have you read any of the publisher's books, and if so, did you like what you read? Did you feel the book was well edited and properly formatted?
Ask questions!
Before you sign a publishing contract you have the right to ask as many questions as you want. Just because you're offered a contract doesn't mean that contract is the best for you and what you hope to accomplish in your career. Be very aware of how long the publisher holds the rights to your work (Terms of Agreement). Does the publisher register the book's copyright with the U.S. Copyright Office and pay for the fees and any documentation, or is that something you're responsible for? Ask about the editing process, how much input you have on the cover, will your book go into print, what will your your net income royalties be, what the possible release dates are and what online vendors (Amazon, Barnes & Noble, Smashwords etc.) will have your book available for purchase. Will the publisher do any promotion, and how much are you responsible for? I recommend first-time authors (and even established ones) have a literary lawyer read the contract, because there may be some things listed you may not understand, or are lost in translation. You should have the option to negotiate the terms of your contract. If an e-publisher refuses to answer your questions or won't negotiate, that's a good sign to walk away.
Hopefully these tips will help you navigate the publishing waters!
- KT Grant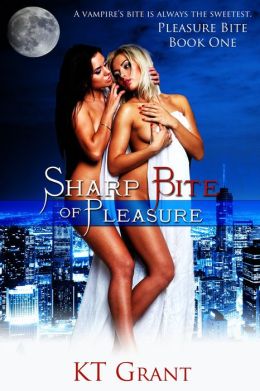 Have a tip for finding the perfect e-publisher? Leave it in the comments! You can pick up KT's latest release, Sharp Bite of Pleasure, available digitally from Lyrical Press now. For more e-book news and views, visit our Everything E-books Page.