Which Historical Romance Couple Do You Want To See Reunited?
Tue, 11/13/2012 - 10:57am — admin
If you are a sucker for tales of long-lost loves reunited, then November is the month for you! Fans of historicals have a plethora of star-crossed lovers to cheer for, and we're curious: Which couple captures your fancy?
Not all reunited love stories are the same. It's the small stuff, the nuances, between the couples that really grabs our attention and has us racing to the story's end. So, with this in mind, we present the details below of three couples who are Meant to Be™. We're asking you to let us know which relationship you'd personally cheer to the finish line. There are no right or wrong answers here, just personal preferences. And the best part? Like an Oprah giveaway, all participants walk away as winners since a happily ever after for all is guaranteed!
***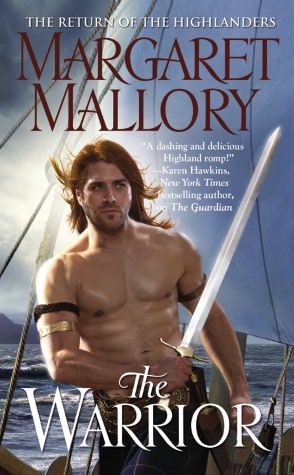 Couple A comes to us from Margaret Mallory's The Warrior
Hero: Duncan MacDonald. He's a hunky Scottish warrior who has spent years on battlefield trying to prove his worth to marry the love of his life, the chieftain's daughter. He comes home to find that her hand in marriage has already been granted to a man from a rival clan.
Heroine: Denied the chance to marry for love, Moira was bartered away and married off to a violent man. Now a mother, she'd do anything to save to her son.
Why they deserve a HEA: Duncan might not have thumbed his nose at the clan's naysayers and swept Moira off when they were younger, but this full-grown warrior is ready to atone for past mistakes and rescue Moira and her son. And Moira, for all that she suffered, deserves to finally have some tender love and care.
***
Say hello to Couple B from Juliana Gray's A Gentleman Never Tells
Hero: Dashing Lord Roland Penhallow was once a part of London's most sought-after couples. By all accounts, they were wildly in love. But there were obstacles to their future, such as his clandestine career and her scheming family, and their relationships falls apart after he mysteriously leaves and she marries an earl.
Heroine: Elizabeth Harewood, Countess of Somerton, had once tasted true love, but it — and he — left her in the lurch. Now married to a ruthless man, she's retreated from England to the Italian countryside to put distance between herself and the father of her child.
Why they deserve a HEA: Elizabeth's taken up residence in an Italian castle to contemplate the ramifications of asking for a divorce, so when Roland shows up, that's definitely fate's way of saying they deserve their second chance. Roland's also a better role model for her son than the violent man she's left behind.  
***
And, finally, Couple C from Cara Elliott's Too Dangerous to Desire
Hero: Sure, Cameron Daggett is a rogue. But that doesn't mean he's heartless. When he's tossed over by the one woman he adores, he never forgets the pain.
Heroine: Sophie Lawrance chose her family over love, but when she finds herself in need of help, she knows that the one man who can come to her rescue is the very one whose heart she broke.
Why they deserve a HEA: Sophie is a self-sacrificing woman who values family above all, but now she's getting another chance to take what she wants. And while Cameron has every right to walk away from Sophie's request, he doesn't.
Now that you've read over the contestants, let us know in the comments below which couple stands out as the pair you'd root for. For more romance visit RT's Everything Romance Page!