Which Nalini Singh Heroine Are You Most Like? Take Our Quiz To Find Out!
Tue, 03/05/2013 - 10:42am — admin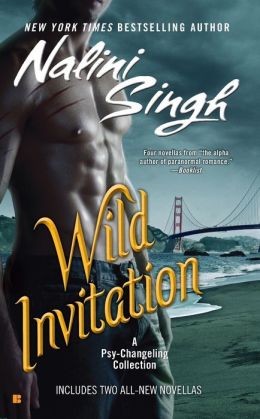 Nalini Singh's anthology Wild Invitation hits shelves today. The four stories in the collection each take place in the author's Psy-Changeling world which includes three types of people — the uber intellectual, yet emotionally distant Psy, the strong, wild Changeling shifters and humans who act as a buffer between the different groups. Fans of Singh will be delighted to play catch up with some old friends, while those looking to be initiated into this complex series will find a smooth transition with these short stories.
In her series, Singh uses intricate worldbuilding to create a fully realized universe, but the thing that keeps the stories grounded are the connections readers make to Singh's amazing characters. Are you wondering what you can possibly have in common with shifters and psychics living in an alternate future? We have devised a quiz to show you are more alike than you ever imagined. Answer the following questions to find out which heroine from Nalini Singh's Wild Invitation you are most like.
***
1) What would be your idea of a perfect date?
a) Taking your man to hang out with friends, then finding somewhere quiet for just the two of you.
b) Going on a couple's hike in the mountains to check out the scenery and see the wildlife then ending the day in a secluded spot perfect for an intimate picnic.
c) A quiet night at home where you order up a big meal and stay up late discussing jobs, family, life and everything else (preferably in close proximity to the bedroom).
d) Sharing dinner and a movie with the entire family followed by some alone time with your special someone.
2) Most days you find yourself surrounded by:
a) People. Lots and lots of people who seek you out for your excellent advice.
b) Who knows? Every day is different than the last.
c) Problems. If something is broken, you are called in to make it right.
d) Family. Because spending time with loved ones is what makes your world go round.
3) What do you consider your best quality?
a) Unsurpassed listening skills
b) Ability to accept people just the way they are
c) Unstoppable determination
d) A loving, nurturing nature
4) How would your man describe you?
a) Strong, warm, loyal … and sexy
b) Open, bright, curious … and sexy
c) Smart, intuitive … and sexy
d) Gentle, kind … and sexy
5) Your perfect mate is …
a) … protective, making sure you get enough "me" time
b) … charming, fun and spontaneous
c) … forceful yet considerate
d) …. tall, dark and completely dedicated to you
***
If you chose mostly As … you are a social butterfly at heart and will recognize Tamsyn in "Beat of Temptation" as a kindred spirit. Generous and caring, the DarkRiver leopard pack healer makes friends wherever she goes. While her mate, Nate, a soldier and future sentinel, isn't as extroverted as Tammy, he is constantly in awe of her amazing talent to put just about anyone at ease. However, she has the opposite effect on him. Around Tammy, Nate is anxious to finalize their mating bond, but hesitates because he is concerned that she needs more time to make such a life altering decision. But there is nothing more than Tammy wants than Nate by her side … forever.
If you chose mostly Bs … it is clear you are able to roll with the punches that life throws your way and we suggest you take some time to get to know Annie from "Stroke of Enticement". As a human elementary school teacher working near the DarkRiver pack, Annie has her hands full wrangling young, curious cats. She loves the energy and excitement of her job, never knowing what the day will bring. But no surprise compares to meeting shifter Zach. His easy, flirty style amuses and draws Annie in, but she is unclear exactly what it means. Changelings don't mate with humans, do they?
If you chose mostly Cs … then you probably find yourself wanting to fix things that you see as broken. You have this in common with Grace from "Declaration of Courtship". As the systems-maintenance engineer for a satellite SnowDancer wolf group, Grace is in charge of the technology that keeps the water running and the lights on in the den. But she often trades in her actual tools for her analytical talents in order to solve any problem — including the issues she has when mating with Cooper. Grace's inner wolf is a submissive where Cooper is the den's dominant lieutenant, a huge problem during courtship. However, Cooper's willingness to do whatever it takes to make Grace comfortable, paired with her own never-give-up attitude just might be enough to see this couple through to their HEA.
If you chose mostly Ds … then you love spending time with family and Lara from "Texture of Intimacy" is your gal. The SnowDancer healer has recently mated with a Psy defector, Walker, yet despite their differences, they are a perfect match. Each and every day Lara works to make Walker feel her love and acceptance as she does with his two wards, his daughter Marlee and nephew Toby. And its a good thing that Lara is well versed in the art of healing because to keep her new family together, she has a lot of work to do. Walker and the children's emotional wounds are not just in their past, but very much evident in their everyday lives, threatening their happiness. But even the darkest memories are no match for Lara's gentle soul soothing nature.
To read all four stories, pick up a copy of Nalini Singh's anthology Wild Invitation, in stores and online today. And for more alternate world goodness, check out our Everything Paranormal & Urban Fantasy Page.