White Trash Zombie Fun: A Glance At Diana Rowland's Hit Series
Wed, 07/03/2013 - 10:18am — admin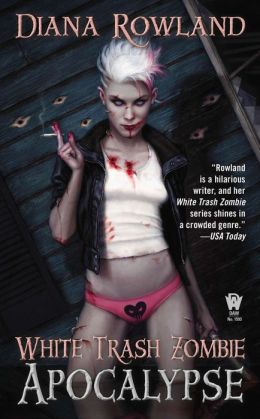 When one thinks of zombies, they usually don't think of endearing, romantic or humorous. But bestselling author Diana Rowland's White Trash Zombie series has won over readers with those exact qualities — and here at RT Book Reviews, we just can't get enough of this series, which won our 2012 Urban Fantasy Protagonist Award! But the fun certainly doesn't stop with the book's interior content — Rowland's covers for the series are just as quirky and engaging!
Each of the books' covers are full of energy and attitude, and the illustrations of the heroine, Angel, help convey these qualities. The covers are definitely attention-grabbing and you can't help but want to grab all three books and read them back to back. Author Diana Rowland loves the covers, too, and says, "...There's a scene in the movie Despicable Me where one of the little girls finally wins a giant stuffed unicorn, and she screeches, 'IT'S SO FLUFFY!'. That's pretty much my reaction to every single one of my White Trash Zombie covers, along with some joyful flailing and high-pitched shrieking."
She also believes the covers successfully capture the books' spirits while also appealing to readers. "I've lost track of the number of tweets or emails I've received from people who said they bought [My Life as a White Trash Zombie] because of the cover and ended up loving it."
Personally, my favorite is the cover for book two, Even White Trash Zombies Get the Blues. The image features Angel sitting on a toilet. Yes, a toilet. Angel's pensive expression contrasts well with this humorous pose, and it makes me want to know what she's thinking about, what weight she has on her shoulders.
Rowland loves this cover, too, and says, "It's a perfect encapsulation of how [Angel's] life goes to sh*t in this book...This cover is bright, eye-catching, and totally captures the mood of the book."
As for the covers in general, while Rowland doesn't think the cover-Angel is an accurate physical depiction of her heroine, she does believe the cover artist, Dan Dos Santos, has captured Angel's feisty spirit. Speaking of her cover artist, she says, "I am insanely lucky that I have a cover artist who is utterly frickin brilliant, and who can come up with totally cool concepts."
Intrigued? You should be! With White Trash Zombie Apocalypse hitting shelves this week, there's no better time to catch up on this fun series than now!
You can pick up a copy of White Trash Zombie Apocalypse, available now. For more creepy stories and unique characters (yeah, we'll call them unique), visit our Everything Paranormal & Urban Fantasy Page.