Wild, Wicked, and Wondrous: Anna Randol On Exotic Settings In Historical Romance
Thu, 04/11/2013 - 11:51am — admin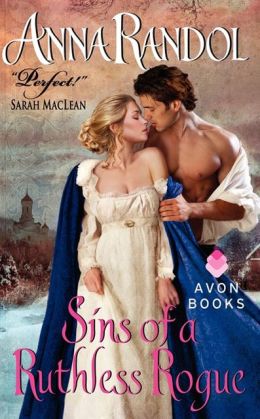 Everyone loves a great historical romance set in Regency England, but what about those who crave a story set in a locale a little less common? Today author Anna Randol shares why she chose St. Petersburg, Russia as the setting for her latest release, Sins of A Ruthless Rogue. And then the author lists a few unusual locations that would make great romance settings as well as some of her favorite books that take place off the beaten path. 
So you know what to expect when you pick up a historical romance, right? A handsome earl, a roguish viscount, maybe a duke (or three). The setting will be one of two places, a lush English country estate replete with ponds for Mr. Darcy to jump in to, or glittering ballrooms swirling with satin and diamonds.
I imagine my new book, Sins of a Ruthless Rogue, gives some readers a pause. After all, It starts off in England (in a paper mill, but still firmly on British soil), but shortly thereafter, the heroine is kidnapped and dragged off to St. Petersburg, Russia.
In the winter, no less.
So why St. Petersburg?
The easy answer is: that's where the book needs to be set. Often when a story pops into my head, the setting pops in right along with it, and I just know that is where the book is going to take place. But since that's not the world's most insightful answer, I've had to dig a little deeper.
Why is St. Petersburg the perfect for Sins of a Ruthless Rogue?
The city in 1817 is a fascinating study of contrasts. The city is Russian yet feels very western European. It is a bustling commercial center and yet most of the workers were still literally owned by the nobility. The rivers that bring the city together also divide it into isolated shards at various times of the year. The gleaming marble buildings often housed dozens of poor families crowded in their cold, damp cellars.
For a story where the hero and heroine are hiding dark secrets behind their own carefully crafted facades, it's the perfect fit. 
I'm often asked what setting I will explore next. While I don' t know where my future books will take me, here are a few adventurous settings that I think would be incredible.
South America: My first fiction attempt long ago was a story of me sailing down the Amazon with my dog Cream Puff so it has always help a special place in my heart. (And all those tropical jungles could make for some hot, steamy scenes…)
Australia: Brutal land, brutal criminals. But many of them were wrongly convicted… So many fun characters could be in that novel.
Sweden: I'll be the first to admit that I don't know much about Sweden in the 1800s except that they were losing large chunks of land to Russia and they were allied with France during the Napoleonic wars. But even that much has me fascinated. A British spy or diplomat could get into all sorts of hijinks there.
If you don't want to wait for my muse and you are eager to read about some of these exotic places right now, here are some of my favorite books you can devour.
Rebel by Zoë Archer, Setting: Canadian Frontier
Flawless by Carrie Lofty, Setting: South Africa
Butterfly Swords by Jeannie Lin, Setting: China
The Hellion Bride by Catherine Coulter, Setting: Jamaica
So, readers, if you could set a historical romance anywhere in the world where would it be?
- Anna Randol
You can pick up a copy of Sins of A Ruthless Rogue, available in stores and online now! And for more historical romance check out our Everything Romance Page.