Win A Copy Of Lisa Kleypas' Crystal Cove And A Bottle Of Aphrodisiac Oil
Fri, 02/08/2013 - 12:00pm — admin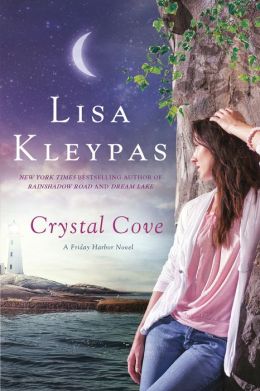 Bestselling author Lisa Kleypas released the fourth book in her Friday Harbor series (the first of which has already been made into a move for the Hallmark channel) this week, Crystal Cove. If you haven't already gotten your hands on this contemporary romance, laced with just the right about of magic, your Friday just got better! We're giving away a copy of the book, paired with mood-making aphordisiac oil to three lucky readers!
Here's the official blub for Crystal Cove:
Justine Hoffman has made a comfortable life for herself on the island of Friday Harbor. She is the proprietor of a successful boutique hotel, and she has the safe, predictable life she has always wanted. Growing up with her flighty, nomadic mother, Marigold, has instilled in her a deep longing for stability. But in spite of everything Justine has achieved, there is still something missing. Love. And after years of waiting and dreaming, she is willing to do whatever it takes to change her destiny.
What Justine soon discovers is that someone cast a spell on her when she was born, with the result that she will never find her soul mate. Determined to change her fate, Justine finds a way to break the enchantment, never dreaming of the dangerous complications that will follow.
And when Justine meets the mysterious Jason Black, she accidentally unleashes a storm of desire and danger that threaten everything she holds dear ... because Jason has secrets of his own, and he wants more from her than fate will ever allow.
Click Here To Download An Excerpt >>
Sounds like a great read, right? RT reviewer Terri Dukes thought so, saying of the book: "Both heartbreaking and heartwarming, this story really does have it all, including a tortured soul who desperately wants love and a dark stranger who wants nothing to do with love at all."
In addition to Kleypas' latest love story, one reader will also win a bottle of aphordisiac oil, perfect for aromatherapy or a light massage. 
There's nothing like winding down after a long day with a quality romance and something fun and soothing. Imagine adding a drop or two of that oil to a warm bubble bath! We've already got one foot out the door just thinking about such a tempting combo. 
GIVEAWAY ALERT: We're giving three readers a chance to win a copy of Crystal Cove, plus a bottle of aphordisiac oil. To enter, leave us a comment on this post telling us how you like to wind down after a long day. You can also e-mail your answer here, along with your address. U.S. addresses only, please. A winner will be announced on February 15.
For more love stories visit our Everything Romance Page.