Win Diamonds With Lecia Cornwall's How To Deceive A Duke Giveaway
Tue, 11/27/2012 - 2:57pm — admin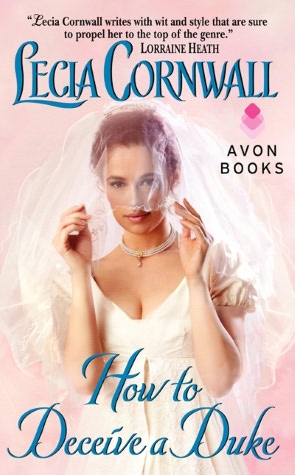 In celebration of Lecia Cornwall's brand new historical romance series starter How to Deceive A Duke, which releases today, we're teaming up with Avon to bring one lucky reader a very special prize just in time for the holiday season: a sapphire and white gold diamond necklace! But before we reveal the prize details, let's take a look at how such an extraordinary giveaway is appropriate for this extraordinary tale. 
When Meg Lynton's sister refuses to marry Nicholas Hartley, Duke of Temberlay and runs off with a new admirer, Meg does what any good woman would do to preserve her family's reputation, she disguises herself as her sister and heads to the alter with Nicholas herself! When the devil of a Duke discovers that he's married the wrong woman, the knot has been tied and it's too late for an annulment. However, after setting his eyes on Meg, Nicholas realizes that maybe his situation isn't all that bad. Together, the two jump into marriage, along with tackling the mystery of his brother's death and a dangerous threat presented by a group of unknown enemies. According to RT reviewer Kathe Robin, who gave her latest title a 4 1/2 star Top Pick! rating, "Cornwall takes a plot as old as time and infuses it with a freshness that will satisfy readers who love a marriage-of-convenience romance."
After Meg's deceptive stunt, she surely deserves something sumptuous as a new Duchess. All that responsibility has to come with a few perks, right? Right. So in honor of Meg's story, we're giving one reader the opportunity to feel like royalty herself! And what a better way to spoil yourself (or a friend or family member, as this would make an excellent gift) than with a lavish, yet tasteful, piece of jewelry? Up for grabs is this 10k white gold sapphire and 1/6ct diamond necklace. The gorgeous diamond and sapphire pendant is held by a delicate 18-inch chain and is valued at more than $200.
To enter to win the necklace, simply comment on this post telling us your plan for tricking someone into marrying you! You can also e-mail your response here  with the subject "Duchess Diamonds," along with your mailing address. U.S. mailing addresses only, please. The contest ends December 4.
BLOG UPDATE 12/4: The winner is Emily McKinney. Thanks to everyone who entered!
You can pick up a copy of How to Deceive A Duke, in stores now! For more romance visit RT's Everything Romance Page!