Win A Kindle Paperwhite From Grace Burrowes And Sourcebooks
Mon, 08/05/2013 - 11:27am — admin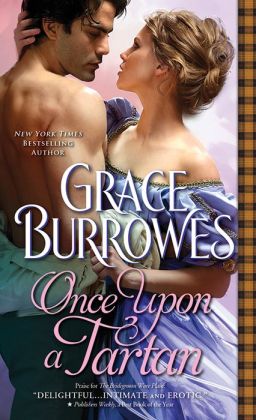 To celebrate Grace Burrowes' latest release, Once Upon a Tartan, an RT Top Pick!, we're partnering with publisher Sourcebooks and giving away a Kindle Paperwhite 3G to one lucky reader! Burrowes has been an RT Top Pick! author and fan favorite for some time now, continuously captivating readers with her dazzling historical romances. Once Upon a Tartan is no exception. When Tye Flynn is ordered to bring back his long-lost brother's daughter, Fiona, he doesn't plan on falling in love with her protective aunt, Hester. Despite being untrustful of men, Hester is drawn to Tye, and the more she learns about him, the more she cares for him. But as danger arises, Hester must learn to let go of the past in order to have a future. We were eager to learn more about this love story, and went straight to the author with our questions:
***
You are known for writing historical romances set in England's Regency period, however, your newest release Once Upon a Tartan takes place in Scotland, along with last December's The Bridegroom Wore Plaid. What made you want to transport readers to this country?
I've long been enthralled with the love story between Queen Victoria and Prince Albert, and one of their favorite getaways was Balmoral Castle, up in Aberdeenshire. I was also captivated by Jennifer Ashley's marvelous MacKenzie series. Then too, we think of "the Victorian period" as a time of bustles, corsets, Jack the Ripper and stifling propriety. In the six decades of Victoria's reign, SO much more went on than that, and the variety alone is fascinating. Finally, Scotland is so achingly beautiful, the scenery alone inspires romance
Hester is a strong heroine — she has to be in order to face down Tye Flynn when he comes looking to take away Hester's ward Fiona. What has happened in Hester's past that allows her to stand up to this powerful Englishman?
Hester's older sibling has married and left Hester alone to contend with rotten family dynamics, and then, Hester is hazed into an engagement she ends up breaking off. The tacit assumption at the time was that many engaged couples would anticipate their vows, and a woman who backed out was assumed to be used goods. When Hester realized she was being taken advantage of, she changed her mind, knowing it would reduce her chances not only of a love match, but of ANY decent match.
Tye's status as an Alpha male is unchallenged, however, he is also very in touch with his feelings towards Hester. What about her first draws him in?
Hester, oddly enough. Hester shares a lot of traits with Tye's mother, though he never quite realizes this. Hester has presence, she's fearless, and she doesn't suffer the foolishness of men. Like Hester, the marchioness (Tye's mother) simply swished off the field of familial battle when the nonsense became more than she could tolerate. And yet, Hester is as protective of Fiona as Tye is of his sisters. 
What about Tye first intrigues Hester?
I think the book converges early around one scene, where Tye and Hester are in the garden late at night, alone, and she's explained the scandal in her past to him. Tye is attracted to Hester, though it's an inconvenient attraction, but he refuses to take advantage of her confidences and instead offers to deal summarily with her former fiancé. That Tye would judge the fellow and not Hester is such a wondrous surprise and relief to her, she starts to look at Tye much, much more closely—and to like what she sees beneath his English manners and big vocabulary.

Both Tye and Hester must come to terms with difficult past experiences in order to look toward a future together. Please discuss these challenges that your characters face.
Tye has lost a brother, and seen his family fractured by grief, and yet, if he honors his brother's last wishes with respect to Fiona, then another family will be put through a similarly heartbreaking experience when Fiona is taken to England. As an honorable man that puts him in a quandary.
For Hester, the quandary is a bit different: she nearly ended up in a loveless marriage because she allowed herself to be charmed and manipulated. Tye seems to be such a different, better man, and yet, he too has an agenda he isn't sharing. Should Hester listen to her instincts, or allow herself to again be beguiled?
Do you have a favorite scene between your H/h? Can you tell us about it?
I do like that scene in garden, where everybody reading along might be expecting big smooches or more, and yet, Tye keeps to the more honorable course. There's another scene, after Tye and Hester have been intimate, where she provokes him to laughter in bed. For both of them, that's pure balm to the soul. I was very pleased to see that scene take shape.
There's also a scene between Tye's parents at the site of their younger son's grave, and that one… many hankies for Madam Author over that scene. I love it when that happens.
RT's Senior Reviewer Kathe Robin rated your story a "Top Pick!" read. Congratulations! Kathe was especially excited about the growth of your two characters. When you first started writing about Tye and Hester did you know how their story would unfold, or did the characters dictate their own journey?
What I knew is that a custody battle is one of the saddest uses a courtroom has ever been put to. Two people who love a child and profess to care about the child's best interests engage in the worst sort of conflict, one that invariably has an element of lose-lose. I dumped this awful mess into the laps of people who are desperate to find somebody to love, and then started writing. The result surprised—and pleased—me!
What can readers expect next from you?
Asher's story comes out next February, The MacGregor's Lady, and a Christmas story for one of Tiberius's sisters, Lady Joan, will hit the shelves in October2014 (Title TBD). Next year will also see a new trilogy of Regency loves stories around the theme of love's ability to free us from various forms of captivity.
Want an e-reader to put all your favorite Grace Burrowes books on? Then enter for your chance to win a Kindle Paperwhite 3G by leaving us a comment telling us what your favorite historical hero quality is — his bravery, his loyalty — his taste in kilts? This contest is open for U.S. and Canada residents , and ends tomorrow, August 6th at 12:00pm EST, which is the same day you can pick up your copy of Once Upon a Tartan! Good luck!
UPDATE: The winner is Sharon F