WIN Melissa Marr's Darkest Mercy – With Excerpt!
Tue, 02/15/2011 - 5:13pm — admin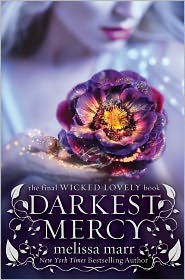 Bestselling author Melissa Marr wraps up her Wicked Lovely series with Darkest Mercy, a March RT Top Pick! Now take a peek between the covers of Darkest Mercy with this excerpt and then find out how you can win your own ADVANCED READER COPY of the paranormal YA that has RT's Kelly Brennan saying, "Fans will not want to miss this shocking, heart-stoping finale!"
***
Aislinn couldn't keep her eyes open. She might not love Keenan, but there was no denying the way her body responded to him. She slid her hand from his side onto his bare stomach and felt the muscles under his skin tense.
He had his arm around her lower back and started to pull her onto his lap.
With more effort than she wished it took, she stopped him. "Keenan."
His eyes opened, but instead of answering, he wrapped both arms around her, and fell backward onto his bed, pulling her with him. Her hands were both flat on his bare chest, and her hips were against his. The shock of being in that position made her still for a moment.
"You're not going to seduce me." Aislinn pushed away and stared down at the Summer King who was shirtless and prone on his bed underneath her.
Summer is the court of impulsivity. Keenan was offering her what Seth was refusing her. His kisses make me forget the world. His touch would be . . .
She sighed. "I'm tempted. You know that."
"That was a no," Keenan said.
"It was." She sat beside him.
He didn't sit up. Instead he rolled onto his side and looked at her. "Because of Seth."
Aislinn nodded.
"So are you . . . completely together then?" Keenan stretched one arm over his head.
Despite her best intentions, her gaze traveled over him. Several thin scars marred the expanse of tanned skin, but they didn't detract from his appeal. He was toned without being bulky, and his well-defined abs made her briefly think he shouldn't ever wear shirts. Except no one would get much done if that were the case. Even when they'd been growing closer, she hadn't seen him like this. He'd been careful around her then. The way he's acting is not an accident. Nothing is with him.
***
Want more Darkest Mercy action? Enter to win your own ADVANCED READER COPY of this new paranormal YA in the giveaway below.
GIVEAWAY ALERT: Eight lucky winners will each receive an ADVANCED READER COPY of Darkest Mercy. To enter leave a comment on this blog about why you'd love (or hate) to be part of the Faery Court. Or email your comment here with your US mailing address and the subject line "Win an Advanced Reader Copy of Melissa Marr's Darkest Mercy Giveaway". The winners will be announced on March 1st.
BLOG UPDATE 3/2/2011: And the winners are ... Upfront_Reader, Alli, Middylou, Lee Thao, Nicole Mainardi, Anna V.,  mvn, and Viki S.