Win Tiger's Curse - a January Top Pick!
Thu, 01/06/2011 - 6:11pm — admin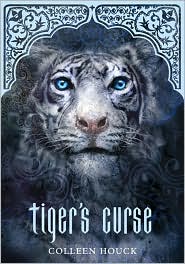 "It is a book J.K. Rowling wishes she wrote ..." raves RT Reviewer Meera Patel about Colleen Houck's YA series starter, Tiger's Curse, a January RT Top Pick! 
Tiger's Curse, Houck's debut, hooked Patel with its fast-paced adventure about teen Kelsey who gets a chance to travel to India with a tiger, only to learn that he is a prince cursed to spend eternity in animal form. Tiger's Curse will hit shelves this Tuesday but right now you can enter to win your own copy in our special Tiger's Curse Giveaway.
Thankfully, once you've devoured your own copy of Tiger's Curse, you won't have long to wait for the next two installments in the series. Tales two and three are also set to be released during 2011. The series second, Tiger's Quest, comes out in June and the third, Tiger's Voyage, in November.
GIVEAWAY ALERT: Five lucky winners will receive a copy of Tiger's Curse. To enter leave a comment below about whether or not you would agree to accompany a tiger to India. Or e-mail your comment here with your U.S. mailing address and the subject line "Colleen Houck's Tiger's Curse Giveaway." One entry per person, please. The winners will be announced on Friday, January 14th.
BLOG UPDATE 1/14/2011: And the winners are ... Sue K. D., Maya R., Gussie, HannahBanana16 and Abby K.