Win Two Signed Series Romances!
Mon, 08/16/2010 - 3:59pm — admin
RT Executive Editor Faygie Levy had a great time at this year's national RWA conference. While she was there she collected several signed novels so, even if you weren't able to attend, you could still get in on some of the conference goodies. The first pair of novels you have a chance to win is two series titles: The Longest Night by Cindy Dees and Hidden Pleasures by Brenda Jackson. 
To celebrate this giveaway, we caught up with Brenda Jackson for a series-sized peek inside the author's head. See what she has to say about Hidden Pleasures and what series romance fans can expect from the author next!
RT: What's something you love about the process of writing for series (or category) romances?
Brenda Jackson: Getting to know your characters as if you truly do know them and each time you write within that series you are revisiting people you've gotten to know.
RT: Can you share a detail that you know about one of your characters that did not make it into Hidden Pleasures?
BJ: The fact that Galen as a tattoo on his arm.
RT: Readers met your hero, Galen, several years ago, what made you excited to tell Galen's story?
BJ: Because when I first introduced him I knew I would eventually write his story and that he would be a different breed of Steeles from the Charlotte Steeles. He and his brothers would be bad boys.
RT: What about your heroine, Brittany, resonated with you even after you finished writing Hidden Pleasures?
BJ: That she never got to meet her real mother.
RT: Can you share something from your next upcoming series novel that our readers can keep their eyes open for?
BJ: My next series novel is from the Bachelor In Demand Series that concentrate on 6 god-brothers instead of biological brothers. In writing these stories I am finding that these god-brothers are just as close as brothers and will do just about anything for each other. The next book, Bachelor Unleashed, comes out in December 2011.
GIVEAWAY ALERT: One lucky winner will receive signed copies of Brenda Jackson's Hidden Pleasures and Cindy Dees' The Longest Night. To enter, leave a comment on this blog post about why you love series novels or e-mail here with your comment and the subject line "Two Series Novels Giveaway." One entry per person. The contest winners will be revealed on August 25th.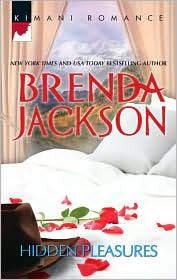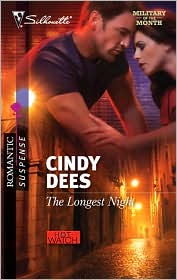 BLOG UPDATE 8/25/2010: And The Winner Is ... Retire012007