Winter Wonderland Erotica Giveaway
Mon, 11/12/2012 - 2:57pm — admin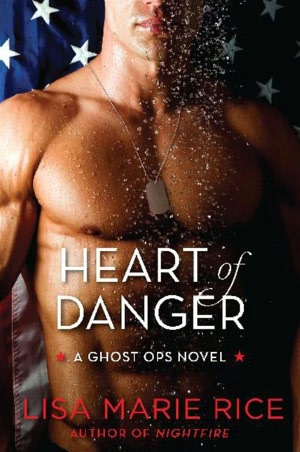 Winter has come early this year, but that doesn't mean we're going to leave you out in the cold. To make sure you stay warm, we're giving away an erotic romance prize pack of five books. So give thanks and celebrate the holidays with these recent releases which we are hoping will help you get through this season's long nights.
First up in the stack is erotic romance veteran Lisa Marie Rice's new Ghost Ops series starter, Heart of Danger. Neuroscientists Dr. Catherine Young, a gifted woman with ESP, is sent to find a man who has all but disappeared. Part of an elite group of soldiers called the Ghost Ops, Tom "Mac" McEnroe leads the small unit after they're betrayed by their commanding officer. When Catherine meets Mac, she's intimidated by the mysterious, masculine soldier, but as she learns more about him and the Ghost Ops, she learns that giving in to her carnal desires could put her life at risk.
Next up is a tale of boy meets girl meets boy in Lauren Dane's newest treat Tart. Juliet Lamprey thinks life is sweet running her successful bakery Tart. But when old childhood friend Gideon Carter returns to their small town, the love she felt for him long ago returns and the two are soon exploring their feelings for one another. But friend Cal Whaley can't stand to see his secret crush with another man, and he realizes that if he doesn't act fast he might loose Juliet for good. The three never expected they'd all end up in bed together, and with emotions running high Juliet has a big decision to make — one so important that it might just drive her away from the two men who mean the most to her.
If the idea of a threesome seems exotic, just wait until you hear about our next pick. Christina Ashcroft's latest, Archangel of Mercy, whisks readers away to a land of angels and demons. Psychic Aurora Robinson thinks she'll help save her mother's sanity by using her powers to open a rift between dimensions, but she doesn't think it'll end with a hunky fallen archangel in her lap! Determined to protect Aurora from the danger she unleashed when she breached dimensions, Gabriel is breaking ancient rules by falling for the irresistible mortal. Seeking refuge in Gabirel's private sanctuary, the couple realizes that they have a much deeper connection, which puts both of them at risk.
Looking for another fantastical read? You are in luck because we're also throwing in Kate Douglas' second Dream Catchers book, Dream Unchained into our giveaway. Douglas' futuristic action-packed tale follows Mac Dugan as he and his crew fight to save Mac's lover Zianne, a Nyrian alien who is being held captive. But this isn't your ordinary space mission. The Nyrian race thrives on sexual energy, so Mac and his team must enter a dream realm where their most erotic fantasies fuel the Nyrians, ensuring their survival.
And to round out this collection is Sharon Page's Regency-set paranormal tale Blood Fire. Lady Octavia Grenville must lose her virginity, and lose it quick becauase she is a succubus and needs sexual pleasure to survive. Matthew, the Earl of Sutcliffe, is more than happy to meet Lady Octavia's demands, but since his recent transformation into a vampire, he's learned that he needs the love of a woman to thrive. The problem? Octavia is only interested in Matthew for sex, and he must risk everything in order to win her heart.
So whether you're craving a contemporary romp, a dark paranormal love story or a futuristic tale that's out of this world, our giveaway is sure to satisfy every erotic romance reader!
GIVEAWAY ALERT: We're giving away an erotic romance pirze pack that includes one copy of each of the titles described above. To enter, simple leave a comment on this blog post telling us which title you're looking forward to reading the most! You can also e-mail your response here with the subject "Winter Erotica Giveaway," along with your mailing address. A winner will be announced November 19. U.S. addresses only, please.
BLOG UPDATE: The winner is Marsha Alford. Thanks to everyone who entered!
Want more erotic romance? Visit our Everything Erotica Page!