Working Class Heroes Of Romance
Fri, 08/31/2012 - 11:30am — admin
We all want a man with slow hands, but what about one whose hands are handy? Romance novels are flooded with tales of the rich and powerful, but this Labor Day we're honoring the working class heroes who set our hearts aflutter. They work for a living, value an honest day's labor and don't mind getting down and dirty. Now this is the kind of man we'd be proud to bring home to mom!
In Janet Chapman's Courting Carolina, we meet a man of many talents: Alec MacKeage. While working to build a wilderness trail for a local resort, he comes across a damsel in distress. Used to taming the wild, Alec feels his own untamed nature rising to the fore as he rescues an unconscious "Jane Smith" from her would-be kidnappers. But Jane is actually Carolina Oceanus, daughter to a magically power father. And that father is busy lining up suitors - and competitors - for his daughter's fair hand. If Alec has any hopes of winning her (and there's something about his Jane that he can't resist), then he'll have to toss his hat in the ring and work it. But we doubt that will be a problem for this trailblazer.
Speaking of blazing trails, Alex Nolan from Dream Lake by Lisa Kleypas is doing a bit of that himself with his unintentional communications with the other side. For some reason he's been singled out by the ghost of Rainshadow Road, but that isn't the only thing haunting this handsomely gruff man with a heart of gold. No matter how hard his life has been Alex is still on hand to help others. So when Zoe Hoffman needs help remodeling her ailing grandmother's cottage, he's there with hammer in hand. But little does Alex know that as his ghost is connecting with the cottage's past, he's laying the foundation for a bright new future.
From cottages to barns, we turn our attention to the hardworking men of Amish country. These men raise the roof, literally, and steal our hearts with their charming love stories. And although the hero of Erin Bates' Her Amish Man is already claimed, we can't help but admire John Miller. He returned to his roots to find the peace he desperately needed after serving in the military. But when he crosses paths with Leah McKenzie, a young woman on the run after witnessing a crime, this craftsman finds himself falling in love and in danger. But it's nothing that this salt of the earth man can't handle.
Self-reliant, independent men always float our boat, but add a dash of aloofness and we're on the hook for sure. That's what caught the eye of photographer Jayne Sullivan when she first caught a glimpse of a rural Maine town's brooding handyman, Reed Kimball, in Melinda Leigh's Midnight Exposure. Mad, bad and dangerous to know? Not hardly. Reed, a former homicide detective, is the only one standing between Jayne and a crazed killer. It's a good thing for her that this handyman's expertise extends to firearms and protection!
But hardworking men aren't just found in rural areas. Oh, no. Luckily for us they are in mid-sized towns, big cities … they're everywhere if you just look! And Kaitlyn, the spoiled younger sister of the Strong family, found her man where she least expected to: In her apartment building's management office. Quinton Wells, the hero of Niobia Bryant's Red Hot, is not only the manager of Kaitlyn's building, but he's the single father to his adorable daughter Lei. Managing a building and raising a child - this man is a multitasker and one to snag!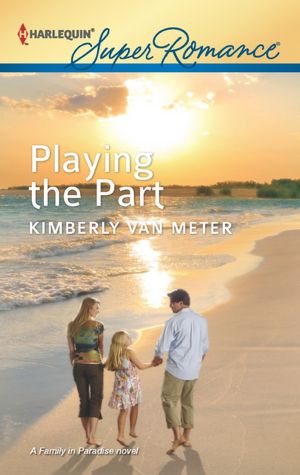 We've focused on our favorite blue-collared men, but we can't let it go unnoticed that there are women in the romance world who also aren't afraid to roll up their sleeves and plunge in. Take, for example, Lindy Bell in Kimberly Van Meter's Playing the Part. She's a trained actress, but when her grandfather needs her help at his resort on St. John's, she takes on the part of handywoman. And it's in this newfound role that she comes face-to-toilet with the recurring clog in the bungalow occupied by businessman Gabe Weston and his precocious daughter, Carys. And if it weren't for that clog, she wouldn't have met Gabe. In this case, a little bit of hard work results in a payoff of the romantic kind (and won't their "how we met" story tickle every listener?).
So, will one of these working class heroes be accompanying you to the beach or a barbeque as you celebrate Labor Day? Or do you have one of those in your life already? Let us know in the comments below. We'll try to control our jealously! For more romance, visit our Everything Romance Page!