YA Author Susane Colasanti Shares 15 Tips For Visiting NYC - With Giveaway!
Thu, 04/28/2011 - 4:12pm — admin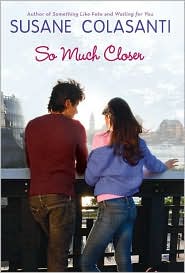 Today we chat with Susane Colasanti whose new New York City-centric YA novel has just hit shelves. As So Much Closer revolves around New Jersey-transplant Brooke who has just moved to New York City to be closer to her crush Scott Abrams, we asked the author for fifteen things she thinks you should know before heading to the big apple. And don't miss your chance to win a copy of So Much Closer  at the end of this post!
Planning a trip to NYC? New York welcomes you! There are so many incredibly fun things to do. I've lived here for 15 years and haven't even come close to doing them all. But this should get you started…
5 Places You Cannot Miss In New York City
The High Line – This new green space is my absolute favorite place. These old elevated railroad tracks were just sitting there for years. But then the tracks were transformed into a magical wonderland with tall grasses and flowers and trees. Now it's a Zen retreat with cool views, art installations, and quiet spots to chill. I naturally had to include the High Line in So Much Closer. The photo shoot for the cover even took place there. If you want to watch the sunset, snag one of the coveted ipe wood lounge chairs facing the river, kick back, and enjoy.
Central Park – This ginormous park is beyond impressive. I love how you can get totally lost in the middle of it and not even realize you're in a city. Or you can hang out along the perimeter to have the best of both words.
Sprinkles – Can I just tell you how stoked I am that Sprinkles is opening a New York location? Cupcakes are awesome. And Sprinkles makes the best. ones. ever. The opening has been pushed a couple of times, but sources confirm that Sprinkles will open in May. When I was on tour in L.A. last year, I had Sprinkles for the first and only time. It was a transcendental experience I cannot wait to experience again.
Joe the Art of Coffee – Joe can be found in several locations. Their coffee is the ultimate. If you're looking for a genuine New York coffeehouse with a neighborhood feel, Joe is for you.
The Strand – I have serious respect for this massive bookstore. You will be beyond impressed. Their used book selection is phenomenal. New releases sell for half price. Fellow book nerds could easily spend hours happily hunting their shelves.

If you're like me, you may feel the need to lug around way more than necessary in your bag. I tend to feel a bit lost if I don't have my old-school day planner and Bliss Body Butter in my bag at all times. So of course I have some suggestions for what you should bring with you.
5 Things To Pack In Your Bag
Band-Aid Friction Block Stick – You'll be doing a lot of walking. Like, a lot of walking. Blisters will happen…unless you whip out this handy treatment stick! It rubs right on areas that are getting irritated so you can keep on walking in comfort. New Yorkers walk fast and we walk everywhere. Blend right in by refusing to let a misinformed shoe choice hold you back.
Book – Some people zone out on the subway staring into space for half an hour. I don't understand them. Ring ring, a perfect reading opportunity is calling! Have a book with you if you're anticipating a long subway ride by yourself. You'll be relieved to have it while you're waiting, too.
MapEasy's Guidemap to Lower Manhattan – This map helped me immensely when I first moved here. Above 14th Street, Manhattan is laid out on a pretty straightforward grid system. But things get crazy down here in the Village. As Brooke quickly discovers in So Much Closer, there are lots of zigzaggy streets and streets that are only one block long and people are always asking for directions. This map has cute illustrations that focus on the best sightseeing hot spots.
Camera – I'm a fan of putting away the devices and living in the Now. That said, there will be things you'll want to document here. Would you except anything less from the greatest city in the world?
Notebook – This one's for my fellow writers. New York is packed with inspiration. I get tons of story ideas just from living here. You'll hear pieces of dialogue and see so many unique things that you'll want to make note of them before you forget. Happy writing!

Finally, to make the most of your visit…
5 Rules To Live By While Visiting:
Look up – This is something John keeps reminding Brooke to do in So Much Closer. We spend so much time looking down that we miss a whole other level of magnificence. Rooftop gardens, water towers, sick penthouse apartments you can see right into…it's all here above eye level, awaiting your admiration.
Travel off the beaten path – The most interesting places are the less touristy ones. If you notice an obscure cobblestone road or random courtyard, do not hesitate to explore! Tangential adventures will make your experience more authentic.
Find what you're looking for – Have you been searching for a quirky laptop case? Or the perfect lip gloss? Then you're in luck! Try the NYC Way app to assist you in locating practically anything.
Don't be afraid to eat – When it comes to delicious treats, New York rules. There are more different kinds of restaurants than you can imagine. From Milk & Cookies in the West Village to Sassy's Sliders on the Upper East Side, you will be floating along in a pink bubble of culinary euphoria. So much to eat. So little time.
Have fun – You know how some people get all stressed when they travel? Like everything has to go a certain way or they'll break down? I recommend going with the flow. See where the energy takes you…and have a blast!

- Susanne Colasanti
And mark your calendar, you can enjoy the sites and sounds of NYC from the comfort of your own home starting on May 3rd when So Much Closer hits stores or enter to win your own copy below!
GIVEAWAY ALERT: Five lucky readers will each win a copy of So Much Closer . To enter leave a comment about why you love New York City or can't wait to visit. Or email your comment here with your US mailing address and the subject line "Susane Colasanti's So Much Closer Giveaway". The winners will be announced May 13th!
BLOG UPDATE 5/10/2011: And the winners are ... Valia L., Suzy K., Wendy Higgins, Book Princess CJ and Ashley!