YA Authors Signing At BEA - With Giveaway!
Wed, 05/26/2010 - 5:47pm — admin
At this afternoon's author signing at the BEA, fans were in for a real treat. Authors were signing books, answering questions and enjoying the chance to meet readers. RT Assistant Web Editor Whitney Sullivan caught up with Richelle Mead, Anna Godbersen, Justine Larbalestier and Cecily von Ziegesar to talk with them about their new projects and the convention so far. Be sure to check out the GIVEAWAY at the end of the post!
While Richelle Mead was signing, she took time to bond with fans over their shared Michigan roots, commiserate about the weight of everyone's bags, and share that she'll be at the RT BOOK LOVERS CONVENTION in L.A. in 2011. Meade was excited to learn that fans are already buzzing about the cover of her next title, The Last Sacrifice.
When she finished signing, Richelle Meade spared a moment for a three question interview:
Whitney Sullivan: What is a detail you know about one of your characters but isn't in the series yet?
Richelle Mead: Lissa's middle name is Sabina. Well, she's got a few middle names, but Sabina is one of them.
WS: What is the most challenging part of your writing schedule?
RM: I am almost always working on two books at once. Writing one and editing the other. So time management is a big issue. I never want to get so rushed that I turn out a story that doesn't meet my standards.
WS: What is one thing you'd like the fans to know?
RM: I love my fans and I am very grateful to them. It's all the fans.
Next, I got a chance to chat with Anna Godbersen, of the Luxe series. The author chatted with fans and handed out excerpts of her upcoming work along with her latest hardcover, Splendor. When she was done signing she also answered three questions. 
Whitney Sullivan: Can you tell me something you know about one of your characters which has not made it into the series?
AG: Diana Holland has a mole on her left clavicle - Henry loves it. 
WS: What is something that you are excited about in your new project?
AG: The whole thing, really. I'm excited about new characters, especially to be writing a brother/sister relationship - cus I have a brother ... but, new friends relationships between girls, women, between young women. 
WS: And this one is just for fun, what is your favorite flavor of ice cream? (In my question-asking defense, it was really warm at the signing!)
AG: Green Tea.
Liar author Justine Larbalestier was also in attendance, signing copies of her new anthologyy. However, I managed to sneak a question in anyways!
Whitney Sullivan: What is an accomplishment in your writing that you're most proud of?
Justine Larbalestier: I love the book I'm working on right now. I think it's genius. But, I feel that way about all my books and by the time the are published, I am kind of over it.
The line to get a book signed by Cicily von Ziegesar, of Gossip Girl series fame, was immense. Von Ziegsar confided in her fans, "I think I'm getting a little punchy, I get to talking and I just can't stop!" But no one minded, everyone had something to say to her, too. She really appreciated the chance to have a very special fan encounter. Last year von Ziegesar had encouraged one of her fans to continue writing, and she was pleased to learn that the young woman took her advice and now has an agent who is shopping her finished manuscript!
Von Ziegsar said of her new title, Cum Laude because it is set in college, it "is not for my younger readers." She went on to say,  "I was ready to move on, [head to college] but I wasn't ready to stop writing."
As I headed out of the book signing area, I was stopped by Cindy Eagan, an executive editorial director at Little, Brown And Company. She and Kate Sullivan, an assistant editor with Little, Brown and Company, agreed that when it comes to YA, "editing for these types of books, we laugh so hard that we sometimes cry describing these stories to each other ... it's really inspiring." Eagan and Sullivan were sitting with new YA author Kody Keplinger whose debut  novel, The Duff: Designated Ugly Fat Friend, will be released in September.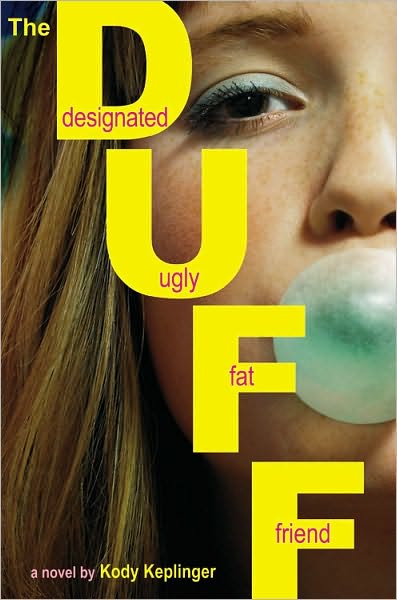 *GIVEAWAY ALERT* Three lucky readers will be chosen to win advance reading copies Kody Keplinger's The Duff: Designated Ugly Fat Friend. To enter please e-mail Whitney@RTBOOKREVIEWS.com. To be considered, your email subject line must be "Kody Keplinger's The Duff Giveaway" and your U.S. mailing address must be in the body of your email. Winners will be announced on June 7th!