YA Film And TV Adaptations In The Works
Tue, 10/23/2012 - 1:42pm — admin
The blockbuster success of the Twilight saga and The Hunger Games films have proven that YA literature isn't just for the page anymore! Books from this hot genre are being snatched up left and right for both movie and TV adaptations. From the ever-popular paranormal stories of teen angst to sci fi and contemporary coming of age stories, YA tales of all shapes and sizes are headed to screens big and small. Today we bring you the latest in Young Adult film and TV adaptation news.
HEADED TO THE SILVER SCREEN
Erin McCahan's novel Cool, Sweet, Hot, Love isn't scheduled to hit shelves until Fall 2014, but Warner Brothers has already bought the screen rights to the book, which means this must be one hot read! The novel follows a female teen genius that has a way with words as a linguistics wordsmith. McCahan also wrote I Now Pronounce You Someone Else, and we have a feeling that her 2014 release will solidify her name in the YA genre!
It's no news to us that paranormal YA is here to stay, and we're thrilled to learn that the rights to Alyson Noël's Soul Seekers series has been bought for film adaptation. Although only the first book in the series, Fated, is currently in stores, the book's popularity prompted the series film rights to be purchased by Arnold Rifkin's Cheyenne Enterprises. Readers can expect book two, Echo, in stores next month, and Mystic and Horizon in stores next year. As for the film, there's no word yet on when it will hit theaters, but Rifkin says he is determined to stay true to the Native American lore in the books.
More magic will make its way to the silver screen with the DreamWorks adaptation of Leigh Bardugo's bestseller Shadow and Bone. The story features an orphan girl who thinks she's totally average until one day a magical power within her is awakened, and she discovers that only she can put an end to the darkness that has been plaguing her kingdom. This deal just closed, so there's no word on who will be directing or adapting the novel for film, let alone a release date. But in the meantime we can look forward to Bardugo's next book in the series, Siege and Storm, which will hit shelves June 2013. 
Divergent fans get excited, because a release date has finally been set for the film adaptation of Veronica Roth's bestselling tale! Set in a futuristic dystopian Chicago, Divergent tells the story of Beatrice Prior, who must decide which of Chicago's five ideological factions she will choose to be a part of for the rest of her life. We've read (and re-read) both Divergent and Insurgent, we know that actress Shailene Woodley will be playing Tris, and we only have one burning question about the film: Who will be playing Four!? We will find out on March 21, 2014 when the movie is slated to release. And while this is almost a year and a half away, luckily we do not have to wait as long for the third book in Roth's series. The currently untitled tale will be releasing in Fall 2013. 
Speaking of bestselling futuristic dystopian YA, plans are moving forward for the Disney film adaptation of Ally Condie's Matched. David Slade, director of The Twilight Saga: Eclipse, will most likely be helming Codie's film. And although the author's tale doesn't have any sparkly vampires, we're wondering if Matched will have a similar dark tone. Readers can head to Deadline.com for more on this film's development.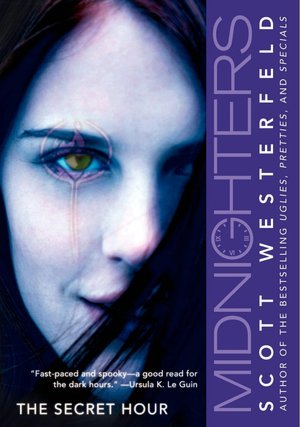 EXPANDING TO TELEVISION
The word on the street (and Internet) is that Scott Westerfeld's popular Midnighters series will have a new home at Fox as a TV series. The trilogy follows teen Jessica Day who notices that a group of students at her new Oklahoma high school aren't exactly normal, and are in fact able to see the twenty-fifth hour in the day that is invisible to everyone else. We can't wait to see how this plot translates into a TV series and are hope that they cast a fresh young talent as Jessica. 
Jessica Shirvington's series starter Embrace is another YA treat headed to TV. The CW will be breathing life into this story about a young woman who finds out that she is not only half-angel, but a crucial part of an ancient war between fallen angels and their protectors. The TV version of this angelic tale is being described as a cross between Buffy and The Vampire Diaries, and we're hoping it not only has a kick-butt heroine, but plenty of drama as well! 
Which movie or TV adaptation are you looking forward to? Let us know in the comments! Love YA? Want more genre news and coverage? Head over to our Everything Young Adult Page.