Yasmine Galenorn On Writing Otherworldly Sex Scenes
Tue, 01/29/2013 - 12:43pm — admin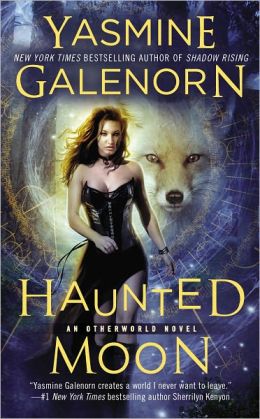 Last week paranormal romance author Boone Brux told us about the not-so-glamorous process of writing a sex scene, and today Yasmine Galenorn, author of the popular Otherworlds series, adds to the conversation by sharing how she crafts the perfect love scene for her supernatural stories. Plus, the author shares a steamy excerpt from her latest Otherworlds novel, Haunted Moon at the end of this post!
When I first began writing the Otherworld books, the hardest part was writing the sex scenes. It wasn't that I was embarrassed—after all, I wrote a nonfiction book on sex magick that laid things out without any pussyfooting around. And I detest euphemisms and clinical terms, so I had no problems with using explicit language and writing blow-by-blow come-on-baby-do-me scenes.
No, my first main concern was making sure that I accurately conveyed the connections between the characters involved. You see, in my worlds (both real and the imaginary ones), sex is a passionate connection between two—or more—people.
Now, for me, sex doesn't have to involve love—I personally believe that sex and love can be separated—but there does need to be an intense connection for mind-blowing sex to happen. And unless you're writing a comic scene, sex on the page better be pretty mind-blowing so the reader doesn't get bored.
That intense connection can be fleeting, brought on by fear or a shared bond, meant to last only for the moment. Or it can involve a long-term passionate involvement. Whatever the case, when I write my sex scenes, I project myself into my main character's mind, into her heart, into her body, and flesh out the reactions she's having to the person/people she's with. Since I write first person, I have to rely on her feelings alone, with only the verbal, energetic, and physical cues given by her partner(s).
The second concern is that the choreography makes sense. I am (I consider luckily) gifted with a very visual mindset. And when I'm not sure about some move (can they really do that without bending something that shouldn't be bent that way?), the net provides plenty of visual proof that the human body is capable of amazing feats. I can't begin to describe some of the sights I've seen.
Then again, there's also something to be said for personal exploration on the subject. ~grinning~ My husband sure doesn't have any objections to that part of the research, and my friends are usually willing to share their experience.
I know that some writers use Barbie dolls, GI Joe dolls, and other figurines to pose out scenes, but I can easily visualize my characters doing whatever it is they need to be doing—whether it be an action scene, a heart-to-heart, or yes…the hot and heavy scenes that my readers seem to like so much. I play out my writing like a movie in my mind
While my books are primarily about saving the world, the sex scenes play an important role in my characters' lives. Sex is a vibrant, passionate expression of being human, and I love writing about empowered women who claim their rights to express themselves sexually—whether it's through the polyamorous Camille's life, or the bisexual Menolly's eyes, or Cicely's drive to embrace her love of many life-times. And my readers seem to enjoy going along for the ride.
- Yasmine Galenorn
Click here for a sexy excerpt of Haunted Moon, which is available in stores today! And for more sexy, otherworldly tales visit our Everything Paranormal & Urban Fantasy Page!