Zoë Archer Introduces Us To Her Nemesis, Unlimited Series
Wed, 06/05/2013 - 1:29pm — admin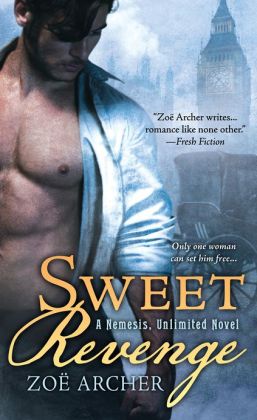 Inspiration can come from anywhere — a lyric in a song, a painting, a quick conversation on the phone. Here at RT, we just love hearing what sparks an author's creativity. We recently asked Zoë Archer what inspired her new Nemesis, Unlimited series. Imagine our surprise when she told us it was a variety of TV shows that had her daydreaming about a team of historical underground crimefighters working to keep London safe. This week Archer's series begins with the action filled Sweet Revenge. Read on to hear the evolution of this series and meet the diverse cast of characters that make up this new world. 
Sweet Revenge is the first book in my new Nemesis, Unlimited historical romance series. Way back in 2006, I published two historical romances, but since then, I've been known for my historical paranormal adventures (The Blades of the Rose series), historical paranormal (The Hellraisers), and even steampunk romance (The Ether Chronicles, co-written by my husband, Nico Rosso). Not only that, but most readers expect a certain amount of action and adventure in my books. So you might think it strange for me to return to the world of straight historical romance again, with nary a magic artifact or airship in sight.
While my inspiration for The Blades of the Rose and other series have come from classic adventure stories and films, with Nemesis, Unlimited, I found my inspiration in an unlikely place: old school and current television series.
What TV shows was I thinking about when creating the world of Nemesis, Unlimited, and writing Sweet Revenge? Two programs that intrigued me were Leverage on the TNT Network, and Burn Notice, on the USA Network. Both programs feature a group of people who work beneath the radar to right wrongs when all legal options have failed. In Burn Notice, the group is comprised of former spies and government operatives. They have specialized knowledge about firearms, military tactics, and, of course, all the tricks of espionage. In Leverage, the team is a little more diverse in their backgrounds, from a former insurance investigator turned thief, a con artist, a tech specialist, another thief, and a guy whose specialty seems to be hitting people. Both teams step in and accomplish the impossible — getting justice for those who can't get it for themselves.
Nemesis, Unlimited works in a very similar fashion within the highly-stratified world of Victorian England. It's a world that favors the rich over the poor, men over women. There's a ruthlessness in Victorian England where people are determined to succeed or live lavishly at the expense of others, which isn't often depicted in romance novels. Naturally, many people weren't (and aren't) rich males, and often find themselves denied justice. That's where Nemesis comes in. They're a group of men and women who secretly right wrongs, and each agent has special skills to aid them in their work. There's Simon, the aristocrat and former soldier. Marco, the spy. And Eva, the heroine in Sweet Revenge, a tutor by day and tough-as-nails operative by night. Unlike Leverage and Burn Notice, there's no "leader" of Nemesis (sorry Michael Weston and Nathan Ford). While each book in the series involves different members of Nemesis assisting on different cases, they're still romances, so I focus primarily on one operative and their hero (or heroine). But just because it's a romance doesn't mean that Nemesis won't go to any length to get retribution. They'll do anything in the name of justice.
I'd always intended on setting the Nemesis series in Victorian England, since it seemed like a period ripe for nefarious deeds that required vengeance at any cost. While I was writing Sweet Revenge, I saw previews on BBC America for a series called Ripper Street. This program centers on the H Division of the London Metropolitan Police, whose jurisdiction covers notorious Whitechapel, one year after the Jack the Ripper murders shocked a city and the world. Ripper Street shows all levels of London society, from the upper echelons to the slum-dwellers, and everything in between. We're so used to seeing elegant and aspirational depictions of historical England, it was refreshing to see a program that shows the gritty and brutal side of life.
Nemesis actually avoids the police, since the law frequently protects those with power, but they're very familiar with the rough and raw parts of London, and England. And the hero of Sweet Revenge is Jack Dalton, an escaped convict who grew up hard on the streets of Bethnal Green, another London slum. There's only a few years difference in the time period between Ripper Street and Nemesis, Unlimited, and while I was watching the program, I'd bounce with excitement on the sofa to see the same era and same milieu on my television. Plus, police back in that time period are shown to be a little more willing to bend the rules to get their desired results, just like Nemesis.
You may remember that I mentioned two old school shows that also served as inspiration for this series. I'm probably dating myself terribly by admitting this, but I was also influenced by the original A-Team series (with George Peppard and Mr. T), and Knight Rider (featuring the magnificent David Hasselhoff). Both shows also depicted secret groups that helped the helpless. And while these programs featured a different damsel in distress every week, I made sure to integrate women into Nemesis, so they're just as important and active as the male operatives, and they very seldom need rescuing.
Inspiration can come in some pretty unexpected places. I often take mine from history or mythology, but in the case of Nemesis, Unlimited, inspiration also came over the television airwaves. 
- Zoë Archer
You can pick up Sweet Revenge, available in stores now and you can view the book trailer here. For more historical adventures, visit our Everything Romance Page.