BY RT BOOK REVIEWS, JANUARY 18, 2011 | PERMALINK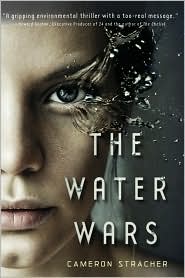 In Cameron Stracher's chilling dystopian YA, The Water Wars, the fast-paced adventure takes place in a bleak world where the lack of water has caused economic and social disasters. Learn what current conditions around the world inspired the author to create The Water Wars and what steps you can take keep this world from becoming our reality. And after you check out this excerpt and *Web Exclusive Review* of The Water Wars at the end of this special message from the author — be sure to enter to win your own copy of the new novel!
The simplest, most elementary thing, can also be the most precious.
12

COMMENTS
SUBSCRIBE TO RSS FEED
EMAIL
SHARE
PERMALINK
READ ENTIRE POST