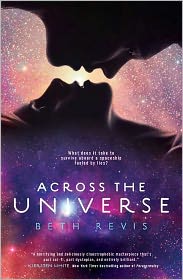 Beth Revis' debut novel Across the Universe is an RT January Top Pick! This fast-paced, futuristic YA will have your pulse pounding as teens Amy and Elder race to discover the identity of the killer aboard their spaceship. In the January issue of RT BOOK REVIEWS magazine, readers got to learn about the making of this new tale in the Teen Scene article "Star Struck." Now the author answers a few more of our questions about that book that hits stores today!
RT BOOK REVIEWS: Tell us about the trilogy. Do you have the second and third books written? Plotted? Can you give us spoilers (like are they finally going to land on the planet?!)?
Beth Revis: Haha! Yes, I do have the entire trilogy planned, and I know what the final scene of the third book will be. But I'm keeping mum about the details! I'll only say this: At least two things you think are true from the first book are actually lies.
0

COMMENTS
SUBSCRIBE TO RSS FEED
EMAIL
SHARE
PERMALINK
READ ENTIRE POST